Are you planning to attend college or university?
We can help manage your money so you can focus on your education.
Scholarships
We support grade 12 graduating students at participating schools in the Christian community with $1,000 scholarships. One applicant will be chosen per school.
Students are required to write an essay emphasizing the meaning of "Biblical Stewardship" and how it applies to their life. In addition, the student should provide a brief outline of their accomplishments, volunteerism, life and career goals.
Students must be members of Christian Credit Union on March 31 of the year of application. Contact us to book an appointment and open an account if you aren't already a member.
Check out our 2021 scholarship winners!

Next Steps Account

Age 25 and under
Monthly fee: $5
Unlimited transactions
Unlimited Interac e-Transfers®
Unlimited non-Credit Union ATM transactions*
No minimum balance required
*There are two fees when you use a non-Credit Union ATM. We will waive our fee, but you may be charged another fee by the non-Credit Union ATM. Fees for US or International transactions still apply.
Credit Cards
We have a card to fit your life.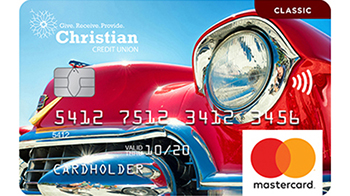 At Christian Credit Union we encourage you to spend less than you earn and save for future purchases. However, we recognize that a credit card is often an important and necessary tool in today's world. That's why we offer a complete range of Visa* and MasterCard* personal and business credit cards that include low or no fees, important benefits, and valuable rewards. We can help you find a card that fits your needs and keeps your spending on track.
Learn More
Student Line of Credit
Competitive rate
Interest-only payments while in school
5-year repayment term beginning 6 months after you finish school
Co-signer usually required
My First Vehicle Loan
Start your journey with your own vehicle loan.
For young adults aged 18 to 25 years
No co-signer required for loans up to $10,000
Helps build your credit rating
Looking for Advice?
Contact a Personal Banking Advisor who promotes biblical principles.